Potential star: Paxton Lynch, Memphis
The Memphis quarterback was on the radar all last season due to a qualitative breakthrough in development. With impressive dimensions (201 cm, 111 kg), Lynch has amazing mobility. However, there is much more to be said besides his athleticism and enormous size.
Lynch is the latest incarnation of the agile but accurate quarterback who has stepped out of the spread offence system. This trend was laid by Alex Smith; recent successful examples include Ryan Tannehill, Tyrode Taylor and Marcus Mariota. By all parameters, Lynch can be attributed to the same group.
As Lynch transitioned from a 13-touchdown quarterback in 2014 to an envelope passer in 2015, his stock price skyrocketed and the player is now listed as a potential first-round pick. He is accurate in passing short to medium distances, as well as prudent when he shoots deep into the field. Coaches who are willing to take the time to perfect Lynch's throwing technique could end up with a franchise quarterback.
In the NFL, Lynch will have to face something that was not at the university, and this can become a serious problem. Memphis played a simple wide offense, making it easy for the quarterback to read the opposition's defensive moves. By the end of the season, the Tigers began to resist the attack much more successfully. Coincidence? I don't think. The level of struggle increased, and Lynch began to make more mistakes than at the beginning of the year.
By taking his time, not forcing things, by learning step by step, Lynch will eventually succeed in the NFL. He needs to gain experience to improve every aspect of his game. A team that spends valuable time training Lynch could have one of the league's top 15 quarterbacks in a few years.
Potential Star: Carson Wentz, North Dakota State
Another offseason name in discussion is North Dakota State quarterback Carson Wentz, a big, mobile player with a good shot. With a height of 198 cm and a weight of 106 kg, he is able to become the very foundation on which to build a team.
The former, now Bison leader, helped his team win the FCS championship (the second-highest college league in the United States) twice in a row, despite a broken right wrist during the 2015 season. Wentz has the ability to learn from his mistakes and improve as he goes. His physical data and psychological stability are his huge pluses.
However, there are a few things to keep in mind about Wentz before considering him a future franchise quarterback. First, in college he played "running offense," which requires almost no quarterback ability to read the defense and make tough decisions. In 43 games, Wentz made just 612 passing attempts. And secondly, FCS is far from being FBS, and a lack of experience playing at a high level can affect Carson much more than his fellow alumni.
Wentz has good shooting accuracy for short and medium distances. In principle, he has enough power to complete any pass, although he needs to work on long-range shots separately: last season he managed to bring only 12 of 31 passes to the destination over 20 yards. Looking at Venitz's stats, I've noticed that of all the quarterbacks already described, he has the worst percentage of long-range passes caught, at just 38%.
To grow his own potential, Wentz needs to work on the mechanics of the lower body and, of course, accumulate game and training experience to the maximum. If everything goes right, he could be one of the top 15 quarterbacks in due time.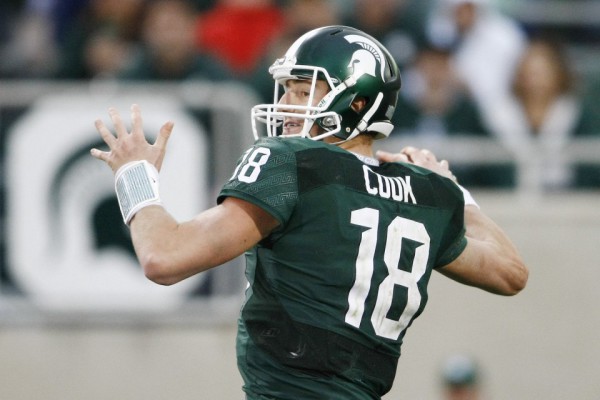 Starter: Connor Cooke, Michigan State
Teams that have a strong offensive lineup and are looking for a quarterback to lead that lineup forward should consider Connor Cooke. The Spartans graduate helped his team achieve 34 career wins, becoming the best quarterback in program history by that metric. He will easily fit into an already existing team structure, but will not necessarily be able to stretch the game with his own actions.
There's nothing wrong with a quarterback like Connor Cooke. In terms of physical data and set of features, he is similar to Andy Dalton. Sometimes he strikes with incredibly accurate shots, but the stability necessary to be considered a star does not smell here.
If Cook finds himself on a team with a strong running game and above-average wide receivers, he can make the most of it. At Michigan State, he had great support from offensive partners, and NFL teams should give him the same. Again, Cooke is not an elite passer, he will definitely throw into dangerous areas, and his receivers will sometimes have to perform miracles.
Cook can be a good addition to the right team on the second day of the draft. He is ideal for a vertical attack based on a balanced game plan.